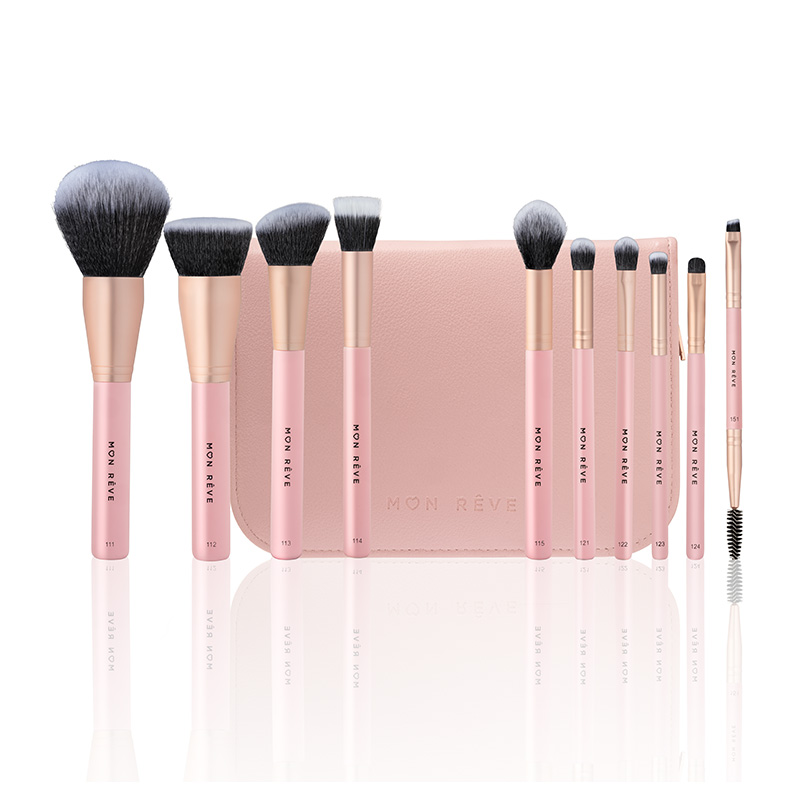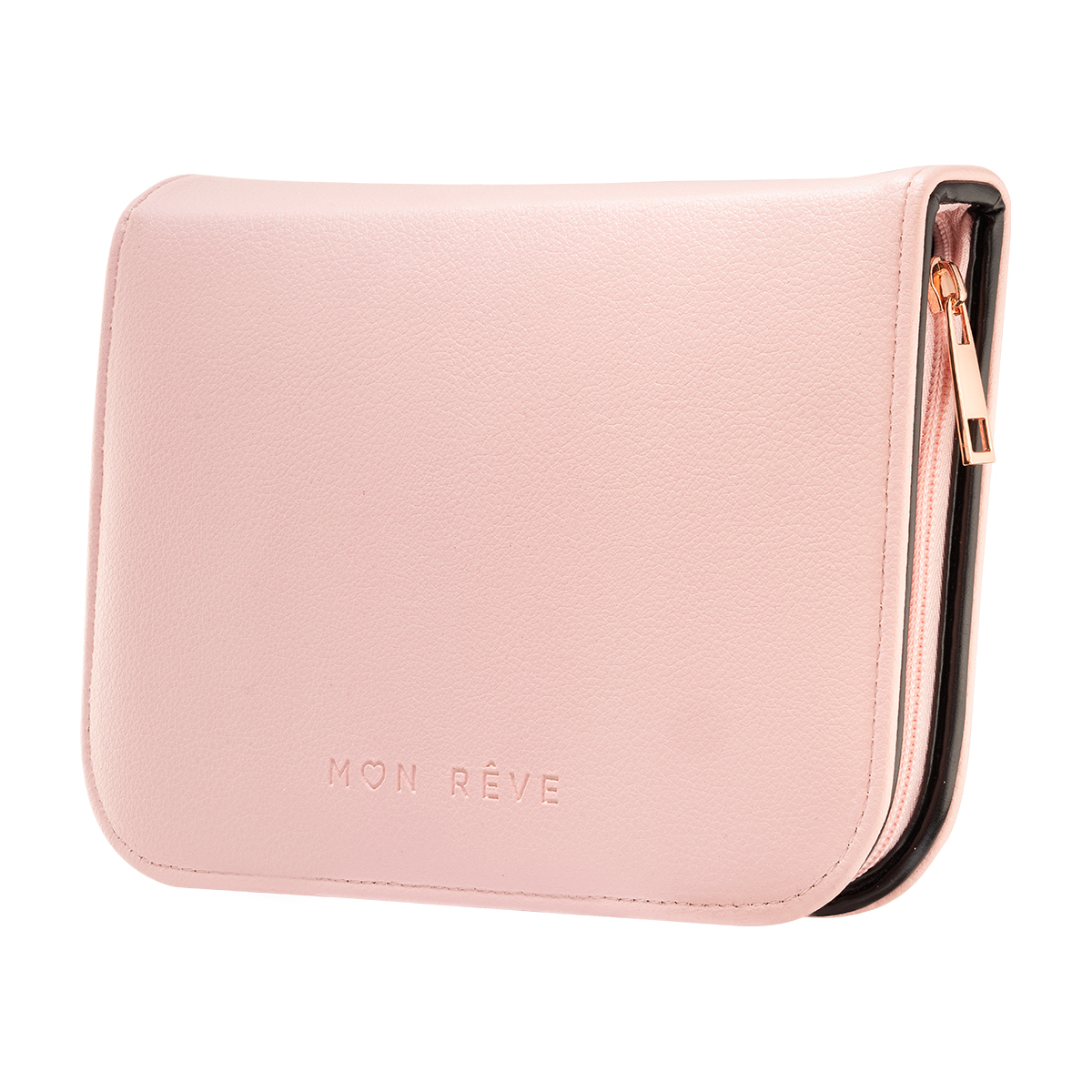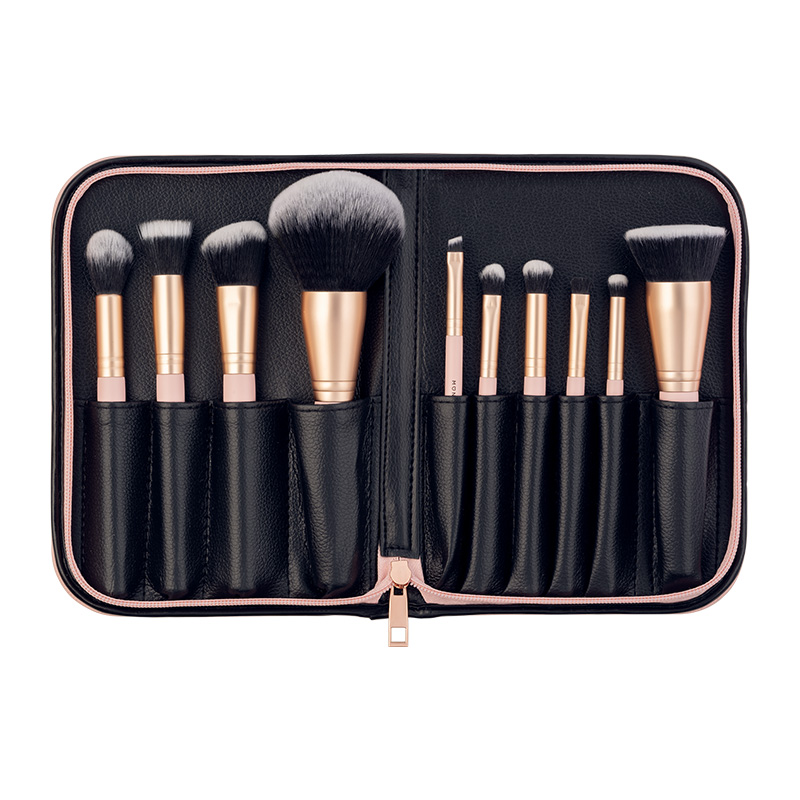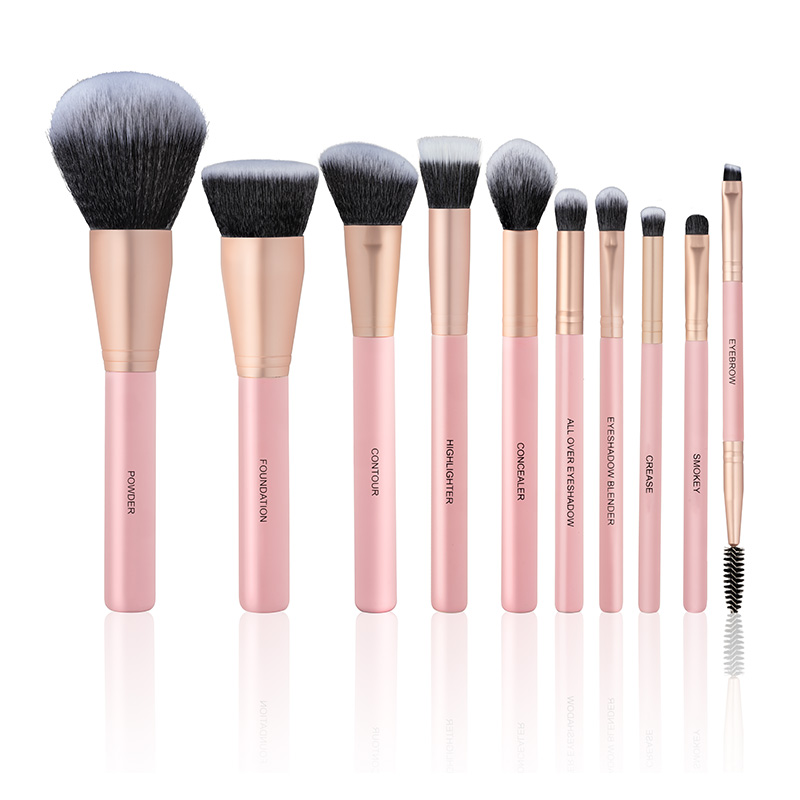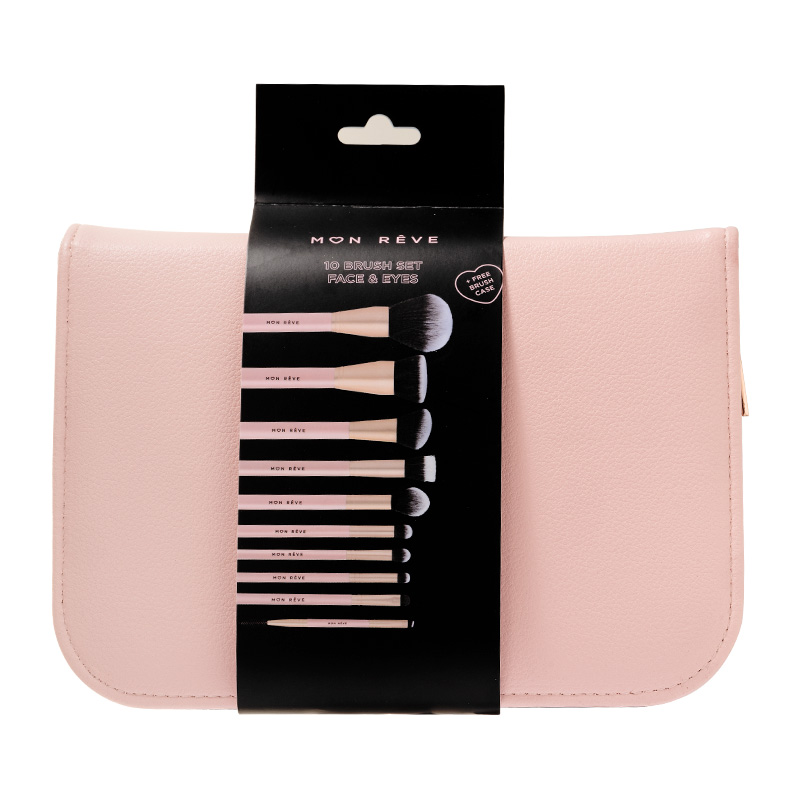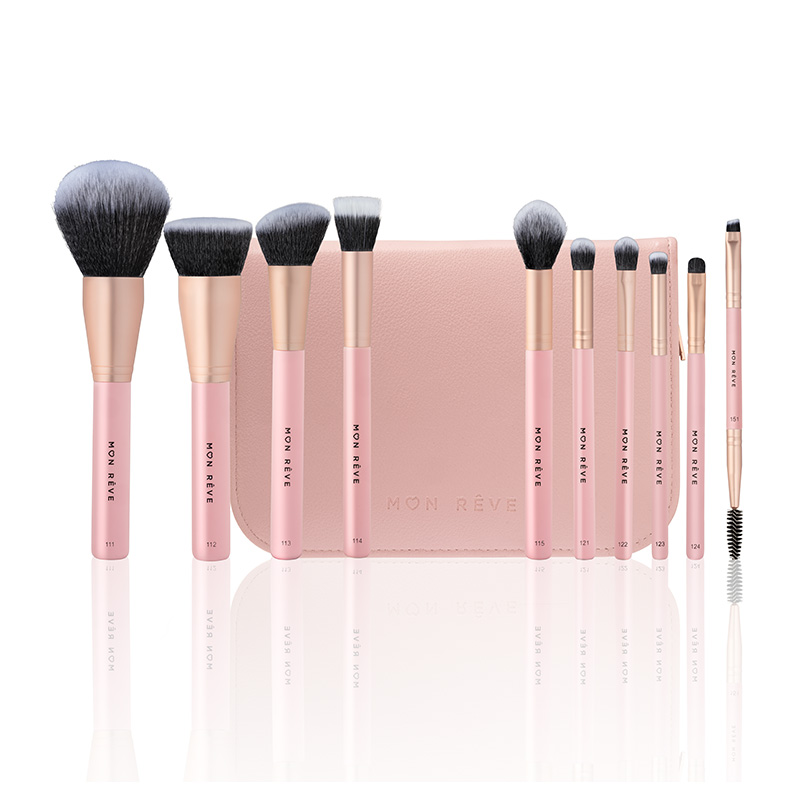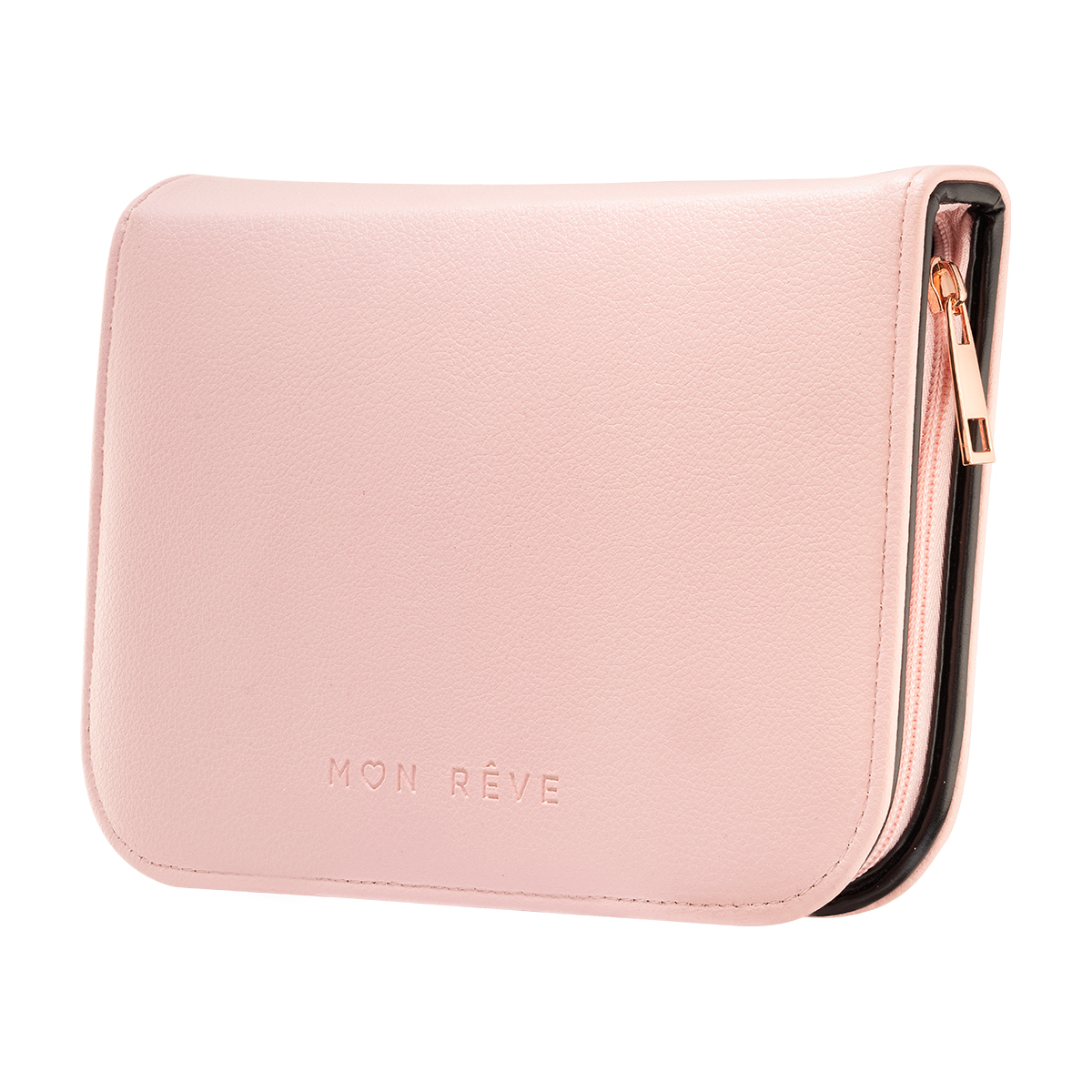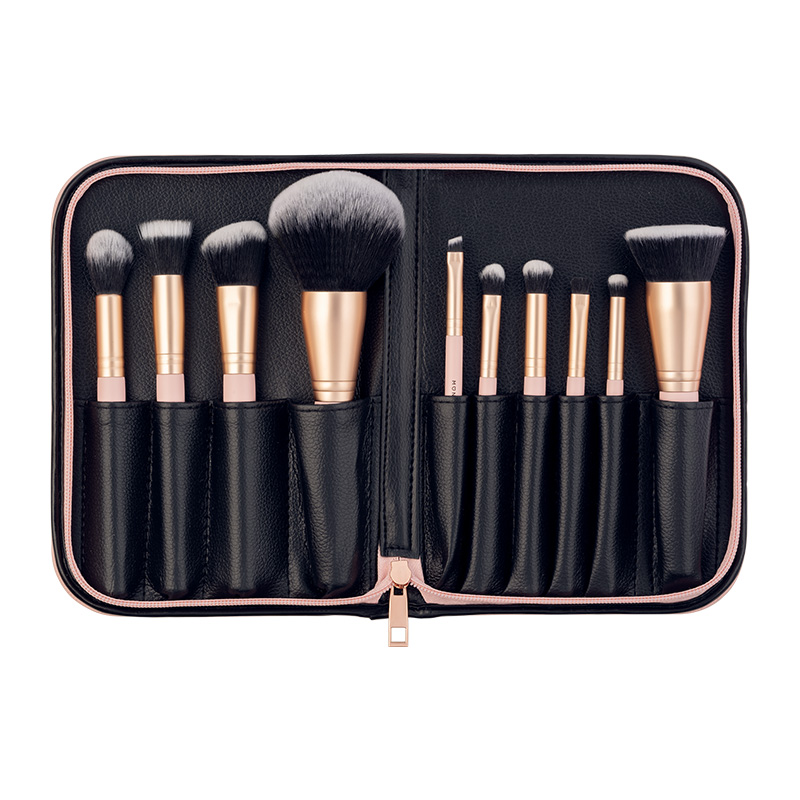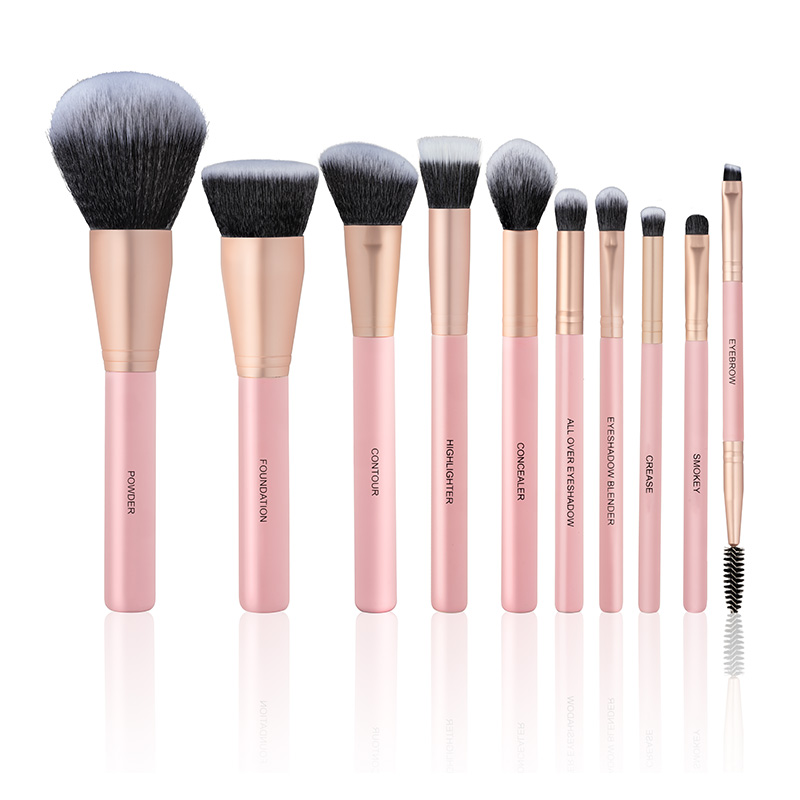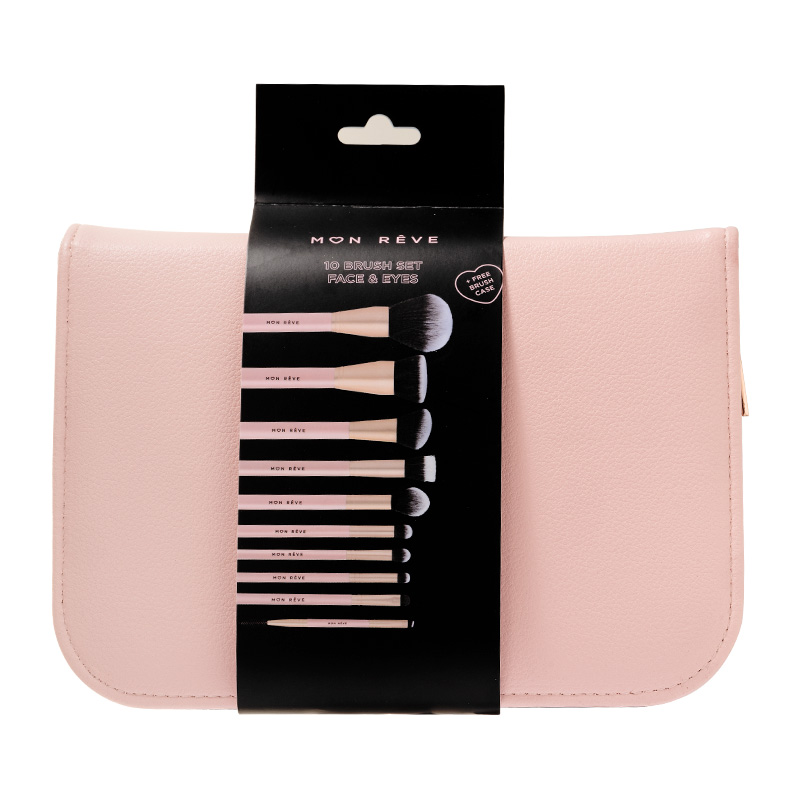 What

Treat yourself to the ultimate brush set! Featuring 10 face and eye makeup brushes so you can create your preferred look, whether it's a simple everyday makeup or a glamorous one. They come paired with a super practical pink case for easy organizing, storage & transfer.

Contains 10 brushes:

111 POWDER BRUSH

A large, rounded brush with incredible soft and fluffy synthetic bristles suitable for an easy loose powder and setting powder application. It evenly applies the product and sets makeup in place for a flawless, airbrushed finish, while it helps also smooth out the overall makeup result. Its specially designed shape is perfect for an all-over powder application on the face, but it is also suitable for body powder.

112 FOUNDATION BRUSH

A dense, firm and short synthetic bristles foundation brush for a fast and easy application and uniform coverage. Its broad and slightly fanned-out shape is ideal for detailed use on hard-to-reach areas, delivering a flawless finish every time. Suitable for liquid, cream, cream to powder and powder foundation.

113 CONTOUR/ BLUSH BRUSH

Sculpt and define your face features with this versatile angled brush that easily fits into the contours of the cheekbones and face edges. Its soft, synthetic bristles work just as well on either liquid or powder formulas creating a soft, diffused, blended look with no harsh lines. The angled tip helps you blur out intense strokes for a defined result and is perfect for both contour or blush application on the cheekbones, apples of the cheeks, forehead, jawline as well as the décolleté, ensuring a flawless result with instant dimension!

 

114 HIGHLIGHTER BRUSH

A brush with soft, synthetic bristles with uneven length that help you achieve a multidimensional result. It distributes evenly the highlighter in either liquid, cream, or powder formula according to the face landscape and features. It effortlessly blends the highlighting products on the skin delivering a naturally radiant look on the top of cheekbones, bridge of the nose, cupid's bow, as well as the decolletage, allowing to build the desired glow level.  

115 CONCEALER BRUSH

An easy-to-use, fluffy size brush with soft, synthetic bristles perfect for applying, smudging and blurring liquid or cream concealer. Its core allows you to deposit the correct amount of product even on-the-hard-to-reach areas of the face for an easy application, while its tip helps you smooth it out for a seamless result. With its specially design shape you can effortlessly achieve a seamless, perfect coverage without the use of your fingers.

121 ALL OVER EYESHADOW BRUSH

Such a practical brush! Fluffy enough to blend seamlessly, yet firm enough to give you control. Ideal for 1 color eyeshadow application.  Made with synthetic bristles, easy to work with, it deposits, blends and smooths out even the most stubborn eyeshadow color onto the lids for high-impact eye looks!

122 EYESHADOW BLENDER BRUSH

Perhaps the most popular of all eye brushes! Made with soft, synthetic bristles with a rounded shaped tip that helps blend smoothly and effortlessly all eyeshadow pigments. It works comfortably on the movable lid, as well as the outer corner of the eye. You can also use it for easy color blending on the crease.

123 CREASE BRUSH

A very precise rounded brush with short and firm bristles. Ideal for a crease makeup look, as it effortlessly contours the crease area for perfectly blended looks with a diffused finish. It adds depth and definition to the glance. Thanks to its small size it can used for a great control and detailed work application or for a pop of shine on selected areas of the eye.

124 SMOKEY  BRUSH

The ultimate tool for flawless and accurate smokey eye look. With synthetic bristles, soft enough as to subtlety smooth out the eye color but so firm as to allow precise application. Also suitable for subtly smudging the outline of eyeshadow or soft pencil on the upper and lower eyelid.

151 EYEBROW BRUSH

A dual ended brush with soft, synthetic bristles that effortlessly fills and shapes eyebrows for an impeccable look and precision application. The slim, angled brush creates defined arches while the mascara-like brush easily tames and shapes the brows. It's great for blending gel or powder products evenly delivering a soft and natural-looking finish, as well as for fanning out your lashes too.

 

 

 

 

 

 

 

 

  

 

 

 

 

When

From morning till night, so you can cover all your makeup needs!

VEGAN
1 year, 1 month ago
by sia
Πολύ καλά πινέλα..... Τέλεια!!!!!
1 year, 12 months ago
by Elen
Ειναι απο τα πιο ωραια και μαλακα πινελα που εχω βαλει στο προσωπο μου. Αναδεικνύουν όλα τα προϊόντα υπέροχα.